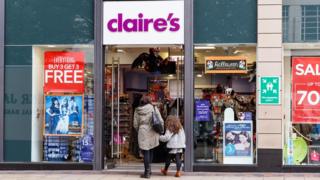 Accessories chain Claire's is reported to be considering closing some of its UK stores.
The Press Association said the High Street chain was talking to restructuring firms about "a number of options".
The chain has more than 370 stores in the UK, according to its recently released reports.
A spokeswoman for Claire's said closing underperforming storages was "part of normal business practice".
According to PA, one rescue program being considered is a corporation voluntary agreement( CVA) where some stores are shut and rents are reduced on remaining stores.