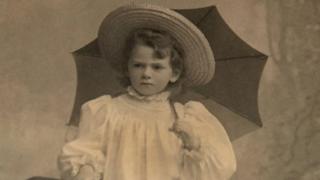 The family of a five-year-old girl whose letter addressed to Santa was detected after 120 years has been traced.
The letter, written by Marjorie Pennington from Eastbourne in 1898, was met hidden inside a volume and is now on display at a toy store in Canterbury.
Marjorie's granddaughter, Susan Miller, uncovered she married a former British Army officer in 1918 before settling in the village of Five Ashes, East Sussex.
She described the detect as "amazing".
In the letter, the schoolgirl asks for plaything ducks and chickens, a canvas stocking and gifts for her cat, Kittykins.