Product Feature:
Shape Puzzle: Build early color and shape recognition! There are two incomplete figures on the one-side of domino. Match them one by one to form a complete figure chain
Matching Game: Improve hand-eye coordination and imagination! Every domino has a geometric shape, build the corresponding shape on domino with the blocks
Dominoes Racing Game: Super fun for your kids to play! Set them up all in a row, and then push one and watch the chain effect of the dominoes tumbling over like a race
NON-TOXIC Wooden Blocks: They are all non-toxic, BPA Free, Lead Free, Phthalate Free. The wood is smooth, round edged and very durable to use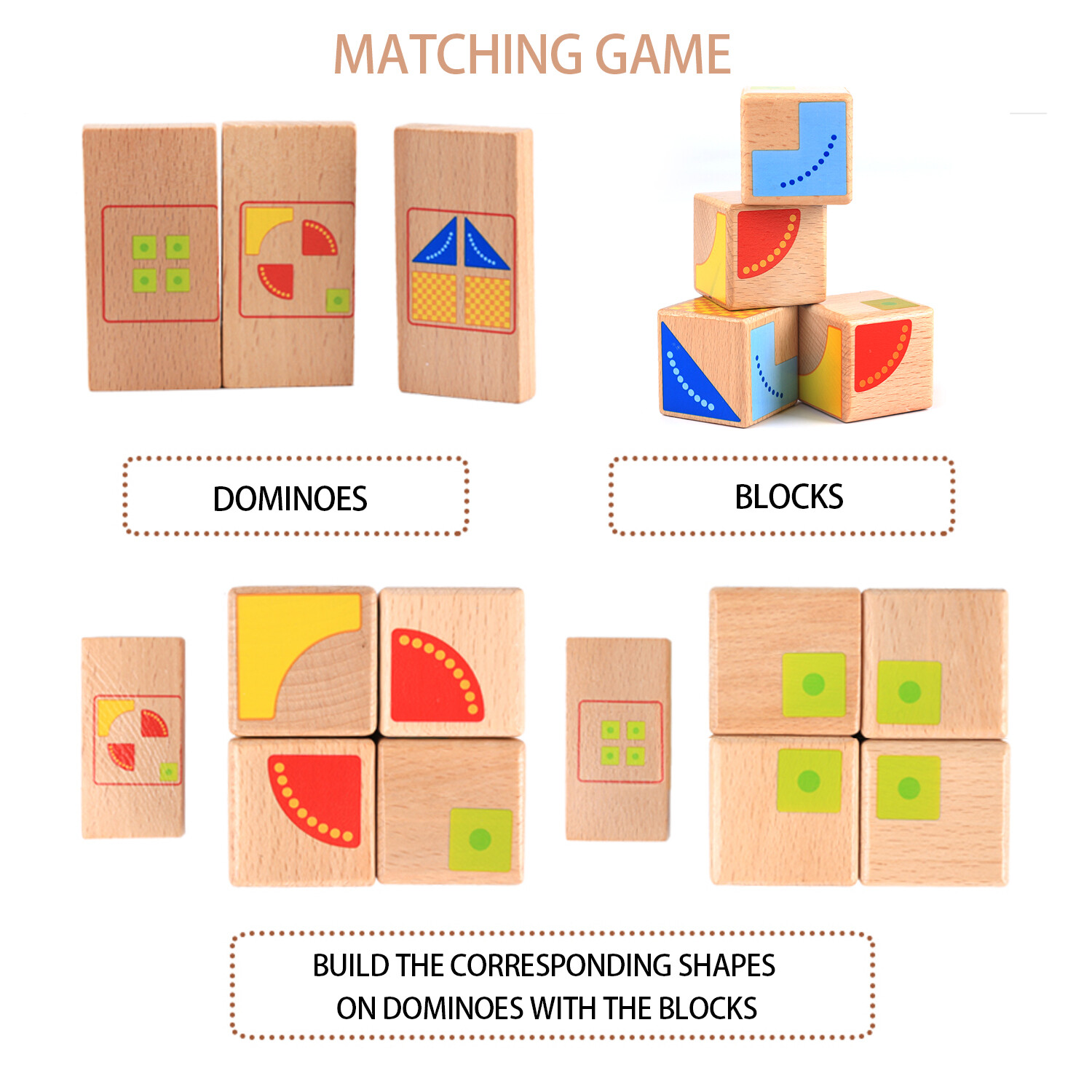 Product Description: Toddler Toys
The 32PCS Dominoes Shape Puzzle is a great educational toy set for toddlers and kids. There are a variety of gameplay, from the easy domino racing game to complex block building. Kids will have a lot of fun while playing. Meanwhile, this toy set can improve their color and shape recognition, hand and eye coordination, creativity and imagination.
Reliable
Safe Wooden Blocks: Durable, Non-Toxic, BPA Free, Lead Free, Phthalate Free.

Smooth Round Edge: Avoid any injuries while playing.
Convenient
Storage Bag: Make storage simpler.

Booklet: Illustrate the usage of this great toy set.

 Diverse
Multiple Play: Shape puzzle, matching game, dominoes racing game, building blocks.

Developed Skills: Color and shape recognition, creativity and imagination, motor skills,
problem thinking and solving ability, practical and design ability.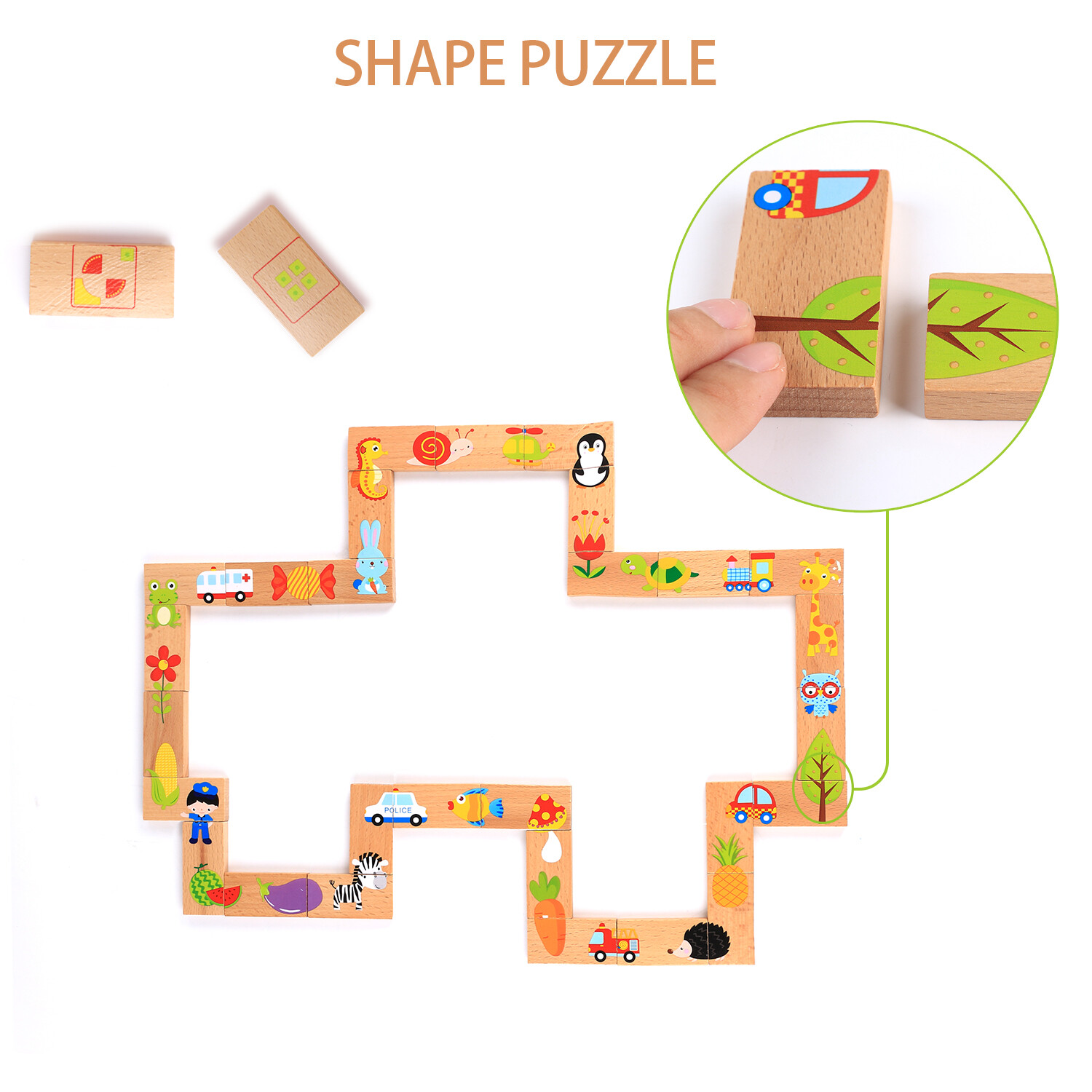 Product Information:
Dimensions: 8 x 5.6 x 1.7 inches
Item Weight: 11.4 ounces
Shipping Weight: 1.3 pounds
Manufacturer recommended age12 months and up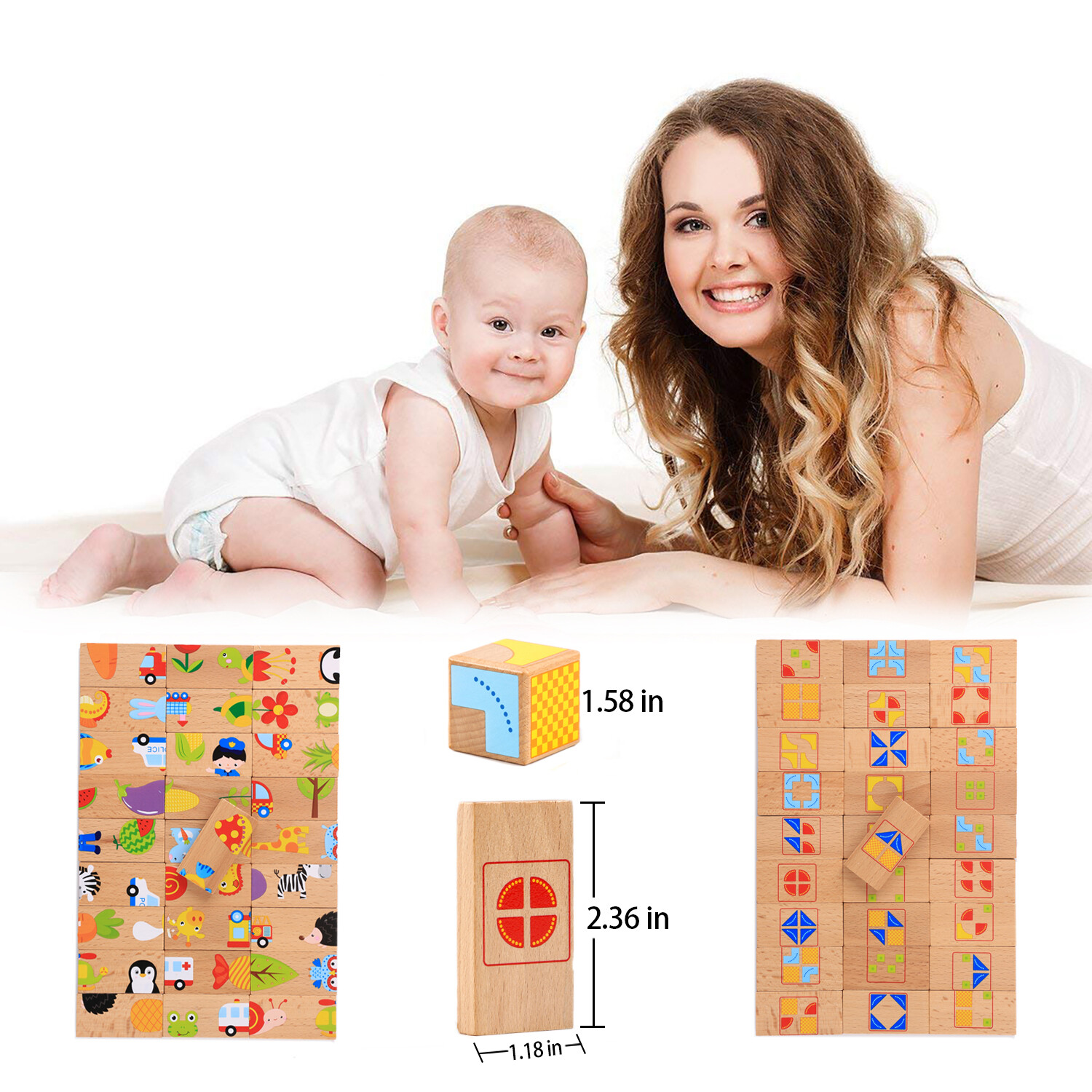 Customer Review:
—–By Stephanie:
The Domino Shape Puzzle is a 32 piece wood set with pictures and puzzles that can be played with a variety of ways. It features 4 blocks with patterns on the side, and 28 dominos. On one side, the dominos has a pattern that corresponds with the blocks; on the other side are two half images of bright and fun characters. The whole set is very sturdy and the pieces are smooth to the touch. They are big enough that that I am not concerned with my 1 year old swallowing them, but still small enough that my 3 year old has fun manipulating them.
In addition to using pieces as building blocks (which is my 3 year old's favorite activity with these), the pieces are set up for 3 activities. Dominos, a shape puzzle, and pattern matching. My 3 year old lacks the required coordination for lining up dominos, but it would make a great a activity for an older child.

The shape puzzle is right up my toddler's alley. He loves finding the matching pictures and lining them up. The images are vibrant and are all well known to my kids. Once all the matches has been found it forms a giant shape. I'm honestly not sure what shape the puzzle is supposed to be, which is my only complaint with this toy. It sort of looks like a lopsided car. My kids don't care what the shape is supposed to be though. They love it just the same.