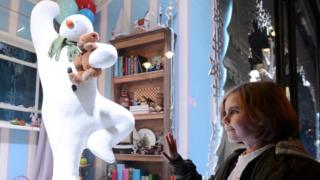 You may still be wrapping this year's Christmas presents but window dressers throughout the property are already projecting their festive presentations for December 2019. Just how do they establish these often impressive sights and how do they hook in the shoppers?
Christmas showings are a staple of many a High-pitched Street during the festive season. Alongside the traditionally bred visions rooted in the nativity and fairytales are the more unusual the main theme of sparkly sprouts, llamas and naughty polar bears.
But the road to success starts not on 1 December, but far, far earlier.
Mark Neilly, senior creative job manager at Hello Flamingo, which specialises in window display design for firms like Habitat and Selfridges, said UK retailers start scheming in January.
"Christmas window and in-store strategies are ordinarily the biggest projects of its first year for labels and retailers, and it is where most visual merchandising and marketing budgets are allocated to, " he explains.